At first I thought it wasn't true. It couldn't be true. No, I'm not talking about last week's Republican Convention!  I'm talking about three legends being let go. You might not know them by their real names, but if I mention the names Bob, Luis and Gordon to a person of a certain age, you will know I am talking about three human cast members of the long running show Sesame Street.
Bob McGrath has been on the show since the beginning. Originally on The Mitch Miller Show, Bob was everyone's friend on the Street. Usually wearing a sweater and slacks, he usually had a song in his heart and a smile on his face. He had a crush on Linda the librarian (she once confirmed by sign language she crushed on him too) He comforted Big Bird when BB realized Mr. Hooper's death meant he was gone physically from his life. McGrath released several albums based on his SS success (I had one of his albums, where he covered Three Dog Night's "Joy to the World")
Roscoe Orman was the third Gordon (Matt Robinson and Hal Miller previously played Gordon before Orman took over the role in 1974) Gordon was a teacher who managed the famous apartment building on the Street with his wife, Susan who was a nurse. Their presence was groundbreaking: not only were they a married couple of color, they both had jobs and cared about their neighborhood, rejecting stereotypes that African Americans lived in poverty. Gordon and Susan later adopted a child they named Miles. In recent years Gordon was best known as playing the hero of the "Trash Gordon" stories that Oscar the Grouch read to Slimey the Worm. Each story had Trash Gordon facing a problem, but worked it out in a non-confrontational way where it worked out for everyone.
If you needed something fixing on the Street, you went to Luis Fix It Shop. Luis could fix anything, but his specialty was toasters. Played by Emilio Delgado, Luis joined the show in 1971 and often explained Spanish phrases to visiting children and Muppets. In 1989 he and Maria (Sonia Manzano) who had always been friends, started to see each other in a different way. They fell in love, then got married. The whole street showed up to celebrate the marriage. The next year, Maria had a baby (reflecting Manzano's real life pregnancy) named Gabrielle.
The three men had been on the show for so long that they were a part of the street, like Oscar's trash can or Hooper's Store. When the show started a first run deal on HBO, changes started. They shortened the show to half an hour. They stopped showing classic episodes on Netflix. On July 27, the biggest shakeup was announced: McGrath, Orman and Delgado was out. McGrath confirmed this to the website the Muppet Mindset.
I know we have many problems right now. The election, police shootings, trouble overseas. What does it matter that three actors were let go from a children's show? If that's how you feel, I understand. Stop reading right now. For the people still with me, here comes my Julia Sugarbaker rant:
What the hell are the producers thinking?? Do they have any idea what a hard year Baby Boomers/Generation Xers have had in pop culture?  We have lost Natalie Cole, David Bowie, Paul Kanter, Patty Duke, Harper Lee, and Prince. There are some things that should stay the same: girl scouts selling their cookies in March. The ball going down on New Year's Eve. Diane Keaton wearing something unique and original. And even though their roles have shrunk down, Bob, Gordon and Luis are always on the street, welcoming children and adults who find their way there.
I tweeted to @sesamestreet and @sesameworkshop asking them if this was true. I have received no response. I guess I want to know why. I also want to know why let go two men of color, who have been wonderful role models to children? In fact, why let go three men who are over seventy?  Is A for ageism?  I thought the whole point of the show was to expose young children different characters of different backgrounds, different races, and different ages. One of my favorite pictures is of Mr. Hooper (Will Lee) with Luis and Bob, along with several children of color and a couple of Muppets. It was to show we can be kind to each other. In a crazy world, we could find a safe place where there was always a friend and maybe a birdseed milkshake.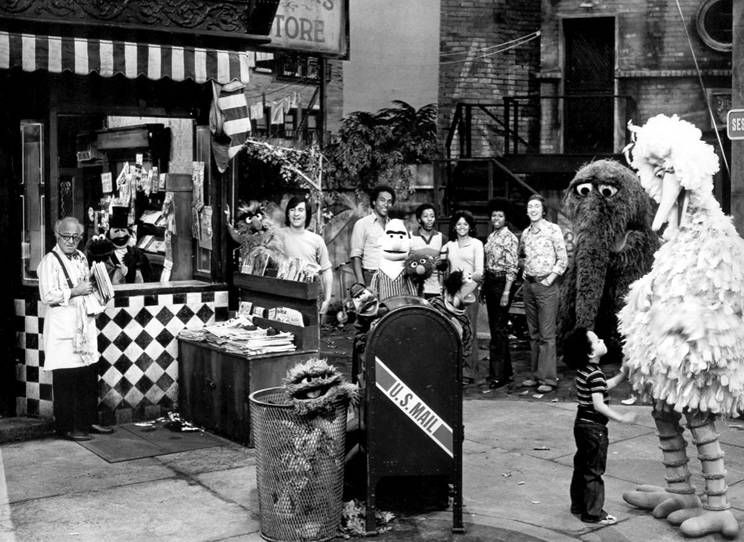 I am hoping that they rethink this decision. But if they don't, I want the gentlemen to know this:  You made impressions on children. You helped them learn how to read. You made us laugh.  Never ever doubt this. The letter today is B. For beloved.