It was 7:45 we were all in line 2 greet the teacher Miss Cathleen
First was Kevin, then came Lucy, third in line was me
All of us where ordinary compared to Cynthia Rose
She always stood at the back of the line A smile beneath her nose
Her favorite number was 20 and every single day If U asked her what she had 4 breakfast
This is what she'd say
Starfish and coffee Maple syrup and jam Butterscotch clouds, a tangerine
And a side order of ham
If U set your mind free, baby Maybe you'd understand
Purple has been everywhere the past two weeks.
On TV women wear shades of lavender, mauve, and purple. Or they wear purple lipstick, purple eyeshadow, purple tights. Men wear purple ties, purple handkerchiefs tucked in their breast pockets. The town I live I see different shades of purple everywhere. I found two purple tops and wore them right away. It's our way of bearing witness, of saying ""Hey. Prince meant something to me."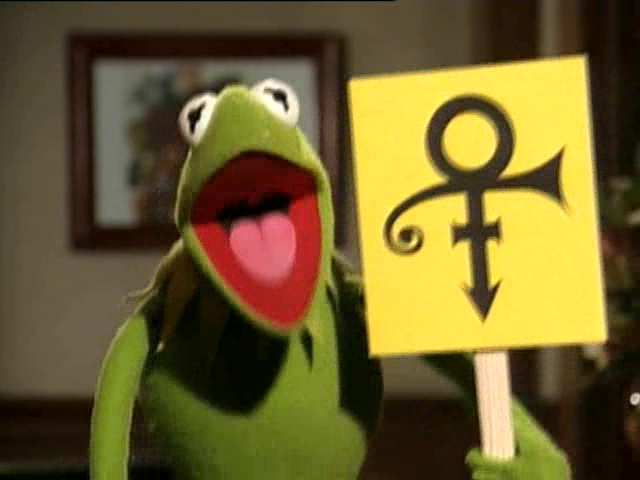 God, sometimes he was pretentious. Remember when he wanted everyone to refer to him as a symbol? Rosie O'Donell ended up nicknaming him Taffy (paraphrasing The Artist Formerly Known As Prince). But even he had a sense of humor about it, when he ended up on Muppets Tonight, looking at Gonzo with amusement, then doing a wonderful version of "Starfish and Coffee" complete with a Prince Muppet playing him as a child.
I wasn't surprised Saturday Night Live did a tribute to him. Jean Doumanian did two things right that year she was executive producer: she hired Eddie Murphy, and one cold February night she gave this new guy Prince a chance to shine. After Charlene Tilton introduced him, he made it clear he didn't want to fight no wars, he just wanted to party. Oh yeah, he said fuck as well. Later Charles Rocket said fuck as well. What a fucking night!
Of course the tribute didn't include the sketch they did when Prince snubbed USA for Africa, where Billy Crystal as Prince sang ""I am also the world!" I didn' t write about Prince right away because I'm tired of death. We've lost so many people the past several months. Not only that, but one of my favorite radio stations is being "rebooted" Music was taking a hard hard hit. What else could I add about Prince? Another soul we lost possibly to drugs? That if his son lived, he would've been twenty? How he brought Wendy and Lisa with him to the podium after winging the Oscar for Best Score in 1985?
I do have two stories. As Mrs. Sophia Petrillo would say, picture it: 19884. Sequoia Middle School, 1984. It was raining one day during PE. Being the book nerd I was (oh let's face it, still am) I loved to sit and read. That day the eighth grade cheerleaders were there. Someone put on KFRC. ""I Would Die 4 U" came on. They instantly started to dance. These girls looked beautiful. Their dancing looked choreographed. Bob Fosse would've been in awe. They did this grapevine like dance, then sang along with Prince as he sang ""I would" they pointed to themselves, ""die 4 U." They pointed to the chalkboard, to an imaginary lover they would do anything for.
The morning Prince died, I watched the news, then stopped. Too much,,too much. I watched a rerun of Hill Street Blues. JD Larue (Kiel Martin) the cop always wanting to get rich. This episode he was trying to market a home safety video. "It's eleven o'clock, and Jane Smith is all by herself" JD says, wearing a trench coat and smoking a pipe,""but Mrs. Smith is in danger." A burglar played by JD's parter Neal (Tarque Blaque) tries to break in, but gets stuck in the window. Suddenly I started laughing, I started laughing so hard I had to pause the show. Was it because it was so cheesy? Or that JD looked like McGruff the Crime Dog? Not sure. I sat and laughed for ten minutes. Them I said ""thank you Steven Bochco" the man who created the show, and I said ""thank you Kiel Martin." Martin died in 1990. Yet at that moment he was alive in that silly trench coat, making me laugh. It's entertainment, it is what keeps us going. It's why when I left for the day, I wore purple. It's how we remember. It how we understand Cynthia Rose had butterscotch clouds for breakfast.